Trendy and fresh Green Thank You Cards.
Gorgeous green Thank You Cards with pretty patterns, modern arrangements, rustic textures, fresh design, elegant illustrations, and fabulous representation of today's Bride-to-Be. Each card is custom printed for sending thanks following your Bridal Shower celebration or any other special occasion, and can also be left blank inside for handwriting your messages of thanks to family and friends.
• Printed on ultra-heavyweight (120 lb.) card stock with a gloss finish.
• Each card comes with a white envelope.
• No minimum order, bulk discounts apply.
• Available in Greeting Card and Note Card sizes
 *Note: Accuracy of page color results is dependent on individual product listing. Discrepancies may occur.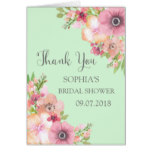 Mint Green Pink Floral Bridal Shower Thank You Card by DreamingMindCards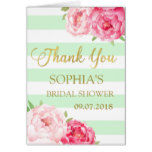 Mint Stripes Pink Floral Bridal Shower Thank You Card by DreamingMindCards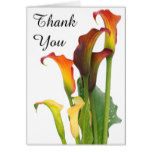 Beautiful Calla Lilly Floral Wedding Thank You Card by nationalpark_t_shirt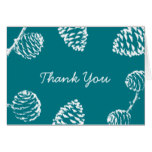 Rustic Forest Pine Cones Green Thank You Card by
myinvitation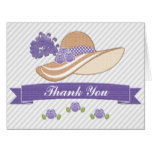 Purple Derby Hat Wedding Shower Thank You Card by OccasionInvitations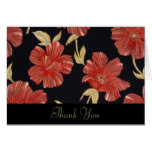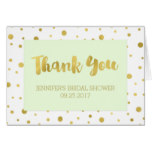 Gold Confetti Mint Green Bridal Shower Thank You Card by DreamingMindCards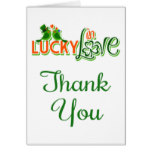 Thank You Lovebirds Green and White Wedding Card by merrybrides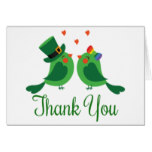 Thank You Lovebirds Green and White Wedding Card by merrybrides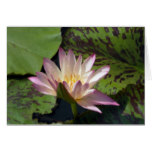 by MovingLight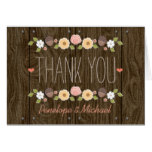 Blush String of Lights Fall Rustic Thank You Card by OccasionInvitations
Christmas Thank You Bridesmaid Green Gold Card by Rewards4life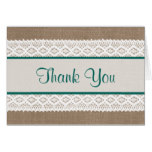 Rustic Burlap & Vintage White Lace Bridal Shower Card by Invitation_Republic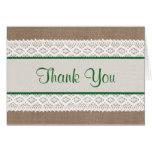 Rustic Burlap & Vintage White Lace Bridal Shower Card by Invitation_Republic
Christmas Thank You Bridesmaid Green Card by Rewards4life
Modern Ombre Vintage Flourish Thank You Note Card by invitationstop
Modern Ombre Vintage Flourish Thank You Note Card by invitationstop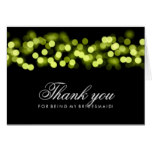 Green Hollywood Glam Thank You Bridesmaid Card by Rewards4life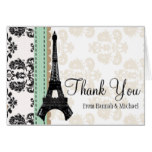 MINT AND BLACK DAMASK EIFFEL TOWER THANK YOU CARD by OccasionInvitations
♥