Romantic Red Bridal Shower invitations.
A signature trademark of love, red in every intense color is perfect for every wedding related gathering. Beautiful, elegant, royal, and rich, these red Bridal Shower invitations are custom printed for the Bride's shower celebration. Red is a passionate color. Your Bridal Shower is a celebration of your passion for your spouse-to-be, before the wedding. Choose a classic red polka dot pattern, intimate lace, royal damask, country gingham, or other great designs and compositions. We've brought you a very large diverse collection. You are certain to find the invitation that shows your personality.
• Different paper types from which to choose.
• High quality, professional, full-color, full-bleed printing.
• Additional options or matching products may be available.
• Bulk discounts are automatically applied.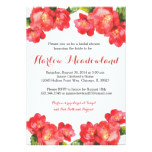 Red Floral Watercolor Bridal Shower Invitation by seasidepapercompany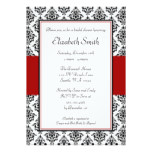 Black and Red Damask Bridal Shower Invitations by printcreekstudio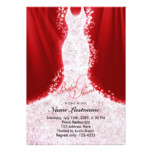 Faux Glitter Dress on Red Bridal Shower Invite by pinkpinetree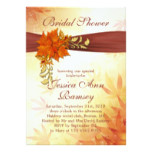 Red & golden Autumnal leaves Bridal Shower Invite by IrinaFraser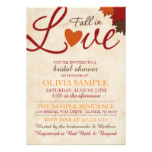 Fall in Love Bridal Shower Invitation by PixieToesInvitations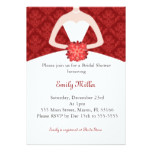 Dress Invitation Bridal Shower Red Damask by pinkthecatdesign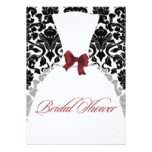 Red and Black Damask Bridal Shower Wedding Dress Card by DamaskDiva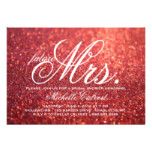 Invite - Red Glit Bridal Shower future Mrs. by Evented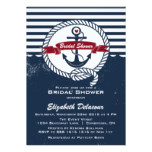 Navy Red Rustic Nautical Bridal Shower Invitation by misstallulah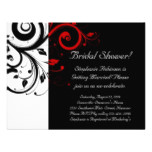 Black, White, Red Swirl Bridal Shower / General Card by CustomInvites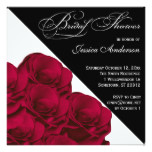 Red Roses Black and White Bridal Shower Invite by RossiCards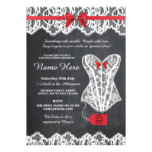 Lingerie Shower Bridal Party Chalk Red Lace Invite by WOWWOWMEOW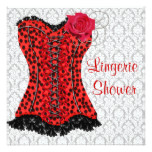 Red Leopard Corset Lingerie Bridal Shower Card by Pure_Elegance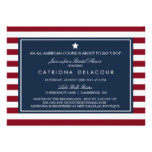 Red White & Blue Stripes Bridal Shower Invitation by misstallulah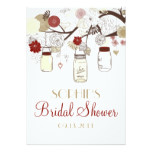 Red & Cream Mason Jars Bridal Shower Invitation by misstallulah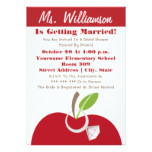 Teacher Bridal Shower Invite - Red Apple & Ring by JillsPaperie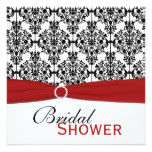 Red, White, and Black Damask Bridal Shower Invite by NiteOwlStudio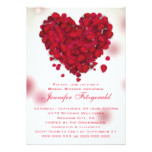 Red Rose Petals Love Heart Bridal Shower Card by WeddingBazaar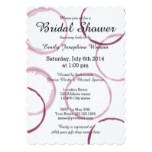 Red wine stain rings bridal shower invitations by logotees
Red Bird Whimsical Winter Bridal Shower Invitation by misstallulah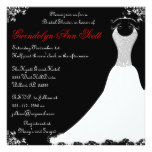 Black and Red Wedding Gown Bridal Shower Card by DaisyLane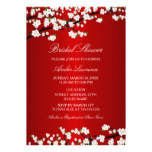 Cherry Blossom Red Bridal Shower Invitation by Zizzago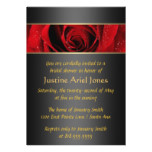 Red Rose Bridal Shower Invitation by party_depot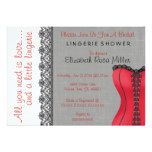 Black & Red Corset Lingerie Bridal Shower Invite by Zulibby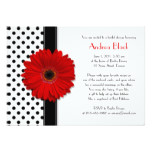 Polka Dot Red Daisy Bridal Shower Invitation by wasootch
Red Roses Glitter Bridal Shower Invitation by PaperandPomp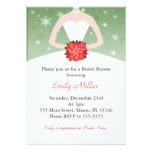 Dress Invitation Winter Red Green Bridal Shower by pinkthecatdesign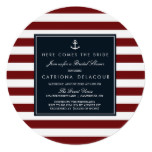 Navy and Red Nautical Bridal Shower Invitation by misstallulah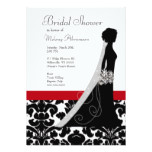 Red and Black Damask Bridal Shower Invitations by DamaskDiva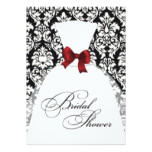 Elegant Damask Bridal Shower Invitation Dress Red by DamaskDiva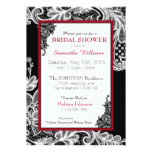 Black Red and White Lace Bridal Shower Card by NouDesigns
 *Note: Accuracy of page color results is dependent on individual product listing (from Zazzle). Discrepancies may occur.
♥