Fresh and traditional Polka Dot Thank You Cards.
Polka Dot Thank You Cards are so girly and fun in their design which make them perfect for Bridal Shower celebrations and other occasions. This collection features polka dots in both modern and rustic presentations. Polka dot patterns of all kinds, from assorted sizes to uniform, in a wide variety of colors and applications, with plenty of red, pink, purple, blue, green, yellow, and other color hues from which to choose. These cards can either be custom printed with a message with your own text, or can be left blank for handwriting your sentiments of thanks.
• Printed on ultra-heavyweight (120 lb.) card stock with a gloss finish.
• Available in Greeting Card and Note Card sizes
• Each card comes with a white envelope.
• No minimum order, bulk discounts apply.
 *Note: Accuracy of page color results is dependent on individual product listing. Discrepancies may occur.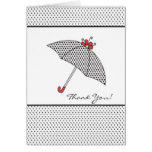 Black & White Shower Umbrella Thank You Note Card by celebrateitinvites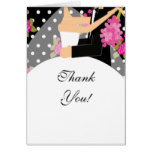 Pink Floral Bride & Groom Thank You Note Card by celebrateitinvites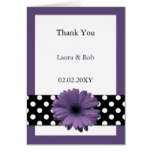 by blessedwedding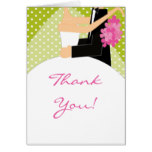 Green Bride & Groom Thank You Note Card by celebrateitinvites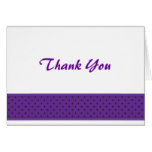 Dotted Bandeau Notecard by DynamicDesign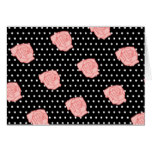 by suncookiez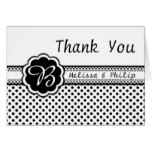 Black white polka dot monogram Thank You Card by IrinaFraser
DotStrip Notecard-Violet/Brown Card by DynamicDesign
Mint and Yellow Polka Dots Pattern Monogram Card by heartlocked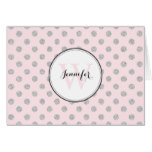 by heartlocked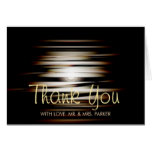 Evening Moon Modern Glow in the Dark Thank You Card by LovelyDecor
Elegant Sky Blue Clouds Snow Falling Thank You Card by LovelyDecor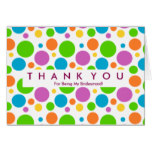 Polka Dot Budge For Being My Bridesmaid Thank You Card by sunbuds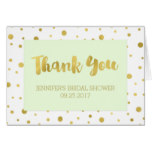 Gold Confetti Mint Green Bridal Shower Thank You Card by DreamingMindCards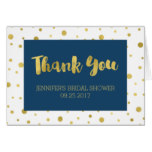 Gold Confetti Navy Blue Bridal Shower Thank You Card by DreamingMindCards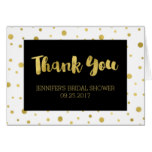 Gold Confetti Black White Bridal Shower Thank You Card by DreamingMindCards
Gold Confetti Hot Pink Bridal Shower Thank You Card by DreamingMindCards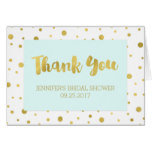 Gold Confetti Light Blue Bridal Shower Thank You Card by DreamingMindCards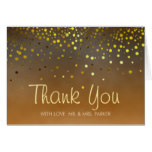 Elegant Sea Green Clouds Thank You Card by LovelyDecor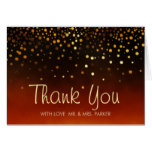 Elegant Gold Foil Sunset Clouds Thank You Card by LovelyDecor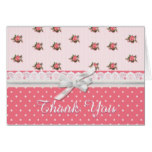 Pretty Pink Custom Thank You Card by DizzyDebbie
Black Bride & Groom Thank You Note Card by celebrateitinvites
Elegant Sea Green Clouds Thank You Card by LovelyDecor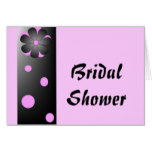 Dots and Daisies Bridal Shower Invitation by Invitesandmore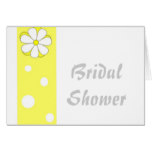 Dots and Daisies Bridal Shower Invitation by Invitesandmore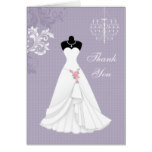 Wedding dress, chandelier on lavender Thank You Card by IrinaFraser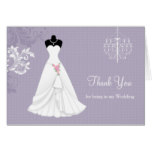 Wedding dress, chandelier on lavender Thank You Card by IrinaFraser
White gown, polka dot on purple Thank you Card by IrinaFraser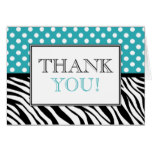 Polka Dot Turquoise & Zebra Print Thank You Card by starzraven
Polka Dot Blue & Zebra Print Thank You Card by starzraven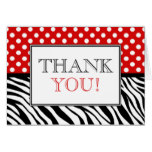 Polka Dot Red & Zebra Print Thank You Card by starzraven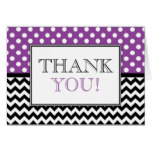 Polka Dot Purple & Chevron Thank You Card by starzraven
♥