Celebrate in Southern charm with rustic Bridal Shower invitations.
This collection of rustic bridal shower invitations contains countrified, fabulously unpolished designs featuring classic textures, and Southern country elements. Wood, burlap, lace, and linen are some of these texture illustrations you'll find. Classic signature country elements include daisies, sunflowers, mason jars, trees, fireflies, twine, and ribbon. Mostly designed in warm earthly tones such as brown, beige, green, orange, and yellow, with a girly touch of pink.
• Choose from different professional invitation paper types.
• High quality, full-color, full-bleed printing.
• Envelope options or other matching products may be available.
• Bulk discounts are automatically applied.
Check out the Bridal Shower invitations by our friend at Artistically Invited, too!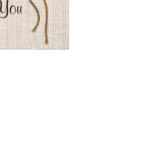 Rustic Wedding Bridal Shower Thank You Card by pics4weddings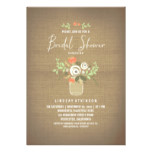 Floral Mason Jar Rustic Burlap Bridal Shower Card by jinaiji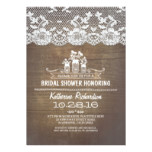 Rustic country mason jars lace bridal shower card by jinaiji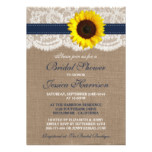 by Invitation_Republic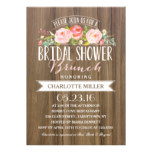 Rose Banner Brunch | Bridal Shower Card by NBpaperco
by Invitation_Republic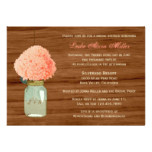 Country Rustic Mason Jar Coral Dark Bridal Shower Card by InvitationBlvd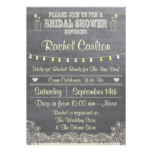 Rustic Mason Jar Bridal Shower Invitation by aaronsgraphics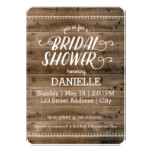 Rustic Wood Bridal Shower Card by Charmworthy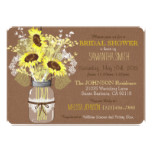 Mason Jar Sunflower Burlap Rustic Bridal Shower Card by NouDesigns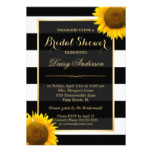 Rustic Sunflower Black White Stripes Bridal Shower Card by CardHunter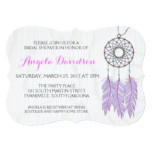 Bohemian Dreamcatcher Rustic Wedding Bridal Shower Card by CyanSkyCelebrations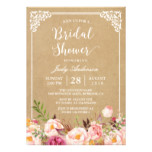 Elegant Rustic Floral Frame Kraft | Bridal Shower Card by CardHunter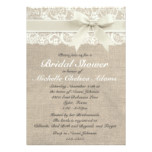 Ivory Lace Burlap Bridal Shower Invitation by ModernMatrimony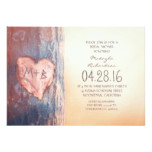 Rustic carved heart tree bridal shower card by jinaiji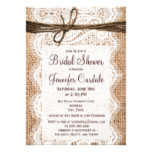 Rustic Country Burlap Bridal Shower Invitations by CustomWeddingSets
Aztec | Baby Shower Invitation by FINEandDANDY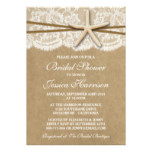 Rustic Kraft, Lace & Starfish Beach Bridal Shower Card by Invitation_Republic
Rustic Wildflowers Bridal Shower Invitations by topinvitations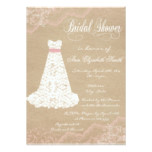 Lace Dress Rustic Bridal Shower Invitation Pink by rusticwedding
Rustic Pink Floral & Wood Bridal Shower Invitation by seasidepapercompany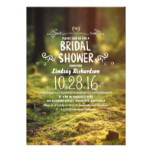 woodland rustic outdoor bridal shower invites by jinaiji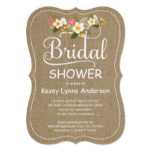 Rustic Burlap Floral Wreath Bridal Shower Card by weddingtrendy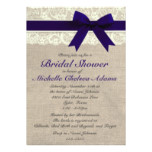 Navy Blue Lace Burlap Bridal Shower Invitation by ModernMatrimony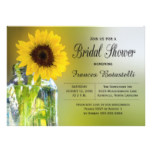 Rustic Sunflower Mason Jar Bridal Shower Wedding Card by bridalwedding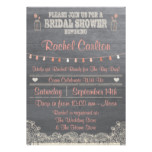 Rustic Mason Jar Bridal Shower Invitation Coral by aaronsgraphics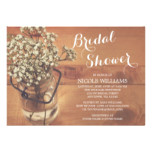 Rustic Baby's Breath Mason Jar Wood Bridal Shower Card by printcreekstudio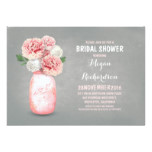 Painted mason jar rustic bridal shower invitations by jinaiji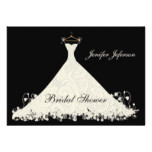 Elegant Bridal Shower Invitation by aquachild
Rustic Bridal Shower Invitation - Yarn Theme by Whimzy_Designs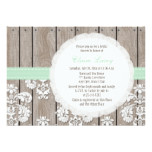 Mint Wood Lace Rustic Bridal Shower Invitations by OccasionInvitations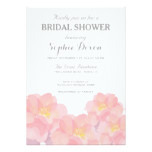 Hawaiian Pink Floral Bridal Shower Invitation by SimplyInvite
*Note: Accuracy of page color results is dependent on individual product listing (from Zazzle). Discrepancies may occur.
♥