Stylish and modern Orange Bridal Shower invitations!
Shop this collection of orange Bridal Shower invitations with a variety of designs and styles for your orange themed celebration. Orange, burnt sienna, saffron, salmon, melon, and more related colors fill this page of orange bridal shower invitations. Each invitation design is custom printed with your personalized shower details to fit your wedding shower celebration. These invitations are perfect for any time of year. Some invitations are ideally designed for Autumn & Fall. Some are bright and fresh for Spring or Summer. Pick the invitation that is fits your Bridal Shower with an orange color scheme the best. These fabulously orange invites are professionally printed with your text and delivered to you.
• Choose from various paper types.
• High quality, full-color, full-bleed professional printing.
• Envelope options may be available.
• Complimentary one-on-one with the Designer or automated proofing process is included.
• Bulk discounts are available to help you save.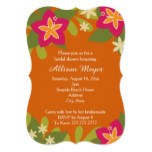 Pink Orange Tropical Hibiscus Flower Bridal Shower Card by Aloha_Friday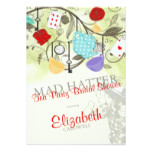 Mad Hatter Bridal Shower Invitation by chocolattedesigns
Orange Country Bridal Shower Invitations by topinvitations
Elegant Bridal Shower Glow & Sparkle Orange Card by
Rewards4life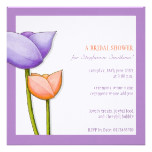 Simple Flowers purple orange Bridal Shower Square Card by floatinglemonsevents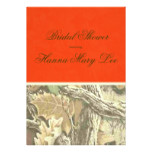 Camo Elegant Orange Bridal Shower Card by CleanGreenDesigns
Monogram Orange and White Stripes with Royal Blue Card by KarinaandCleo
Contemporary Chevron Couples Bridal Shower Card by ThePaperMill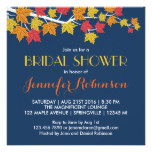 Maple Leaves Navy Blue Fall Wedding Invitation by raindwops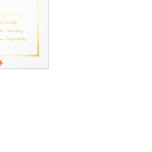 Autumn Rustic Orange Flowers Chic Gold RSVP Card by CardHunter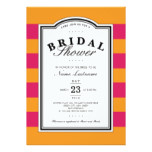 Pink Orange Striped Stylish Bridal Shower Invite by pinkpinetree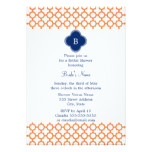 Monogrammed Orange , Royal Blue Quatrefoil Bridal Card by KarinaandCleo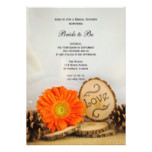 Rustic Orange Daisy Woodland Bridal Shower Card by loraseverson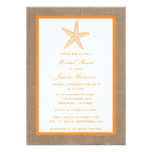 Orange Starfish Beach Burlap Bridal Shower Card by Invitation_Republic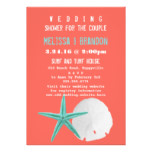 Coral Orange and Blue Beach Shells Wedding Shower Card by sandpiperWedding
Purple Orange White Floral Bridal Shower Invite by NiteOwlStudio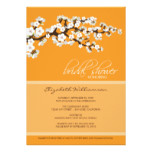 Cherry Blossom Bridal Shower Invitation (orange) by TheWeddingShoppe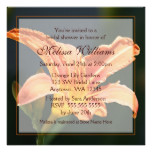 Orange Tiger Lily Bridal Shower Invitations by printcreekstudio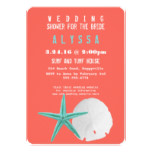 Big Starfish Sand Dollar Orange Bridal Shower Card by sandpiperWedding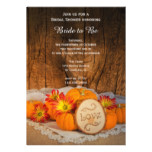 Rustic Pumpkins Fall Bridal Shower Card by loraseverson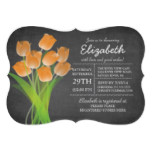 Modern Chalkboard Orange Tulip Bridal Shower Card by invitationstop
Country sunflowers rustic wood bridal shower card by girly_trend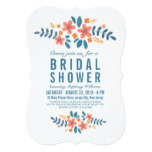 Orange Blue Floral Bridal Shower Photo Invite by pinkpinetree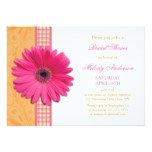 Pink Daisy Orange Plaid Recipe Bridal Shower Card by wasootch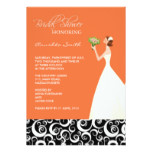 Orange and Black Bridal Shower Invitations by Eternalflame
custom Timeless Bridal Shower Invite (orange/blue) by TheWeddingShoppe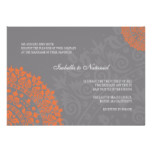 Charcoal Gray and Orange Damask Wedding Invitation by Eternalflame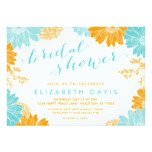 Orange and Turquoise Modern Floral Bridal Shower Card by rileyandzoe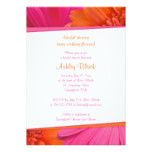 Pink Orange Daisy Wedding Bridal Shower Invitation by wasootch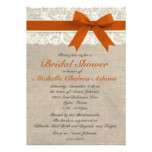 Orange Lace Burlap Bridal Shower Invitation by ModernMatrimony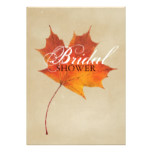 Autumn Orange Fall in Love Leaves bridal shower Card by Going2TheChapel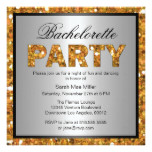 Glitter Bachelorette Party Invitation by party_depot
 *Note: Accuracy of page color results is dependent on individual product listing (from Zazzle). Discrepancies may occur.
♥